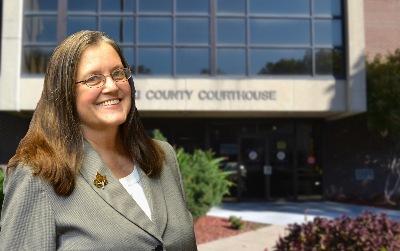 When Experience Counts

-Former Military Prosecutor
-Former Military Senior Defense Counsel
-Former Pulaski County Prosecutor
-Over 18 Years in Private Practice





Admitted to Practice Law - State courts:

- State of Missouri,
- State of Florida,
- District of Columbia,
- Commonwealth of Massachusetts

Admitted to Practice Law - Federal courts:

- Western District of Missouri,
- Middle District of Florida,
- Army Court of Criminal Appeals,
- Court of Appeals for the Armed Forces
- The Supreme Court of the United States

EDUCATION:
- BRANDEIS UNIVERSITY, Waltham, MA,
B.A. Politics and Sociology
- BOSTON COLLEGE SCHOOL OF LAW, Newton, MA,
Juris Doctorate in Law

CRIMINAL LAW PUBLICATION: "The Residual Hearsay Exception: An Overview for Defense Counsel", THE ARMY LAWYER, June 1990.

TRIAL EXPERIENCE:
Deborah is an experienced trial lawyer with over 26 years of criminal trial experience. She served 8 ½ years in the US Army Judge Advocate General's Corp. Her entire military career focused exclusively on criminal trial law. Her first assignment was overseas where she served as Defense Counsel in Hanau, Germany and later. As Chief Trial Counsel for 3rd Armored Division, Giessen, Germany.

Her follow-on assignments expanded her trial experience with increasing positions of responsibility. Deborah performed consecutive duties as Senior Defense Counsel at Fort Belvoir, Virginia and Fort Leonard Wood, Missouri (1989-1992). During her military service, Deborah personally tried over 200 contested criminal cases, including offenses of rape, child molestation, aggravated assault, negligent homicide and murder. Deborah resigned her commission in June 1992, (awarded Meritorious Service Medal) in order to devote more time to her family and to relieve the stress of competing dual military careers.

With the exception of the birth of Michelle, Deborah did not take a break from the practice of law. She opened a private practice in Florida while her husband completed his graduate degree at Florida Institute of Technology. During their assignment to Fort Bragg, North Carolina, Deborah established a satellite office for the law firm of Taylor, Horbaly and Black, where she defended soldiers pending court-martial. In November 1996, the military returned Deborah and Earl to Fort Leonard Wood.

Since her admission to the Missouri Bar in 1997, Deborah has worked full-time as an attorney practicing military and civilian law. January 2007-December 2010 - Deborah served as the elected Pulaski County Prosecutor. Under her leadership, the Prosecutor's office operated under the motto "Quality not Quantity Counts". As prosecutor, Deborah understood the importance of proof beyond a reasonable doubt and avoiding false accusations. Adhering to strong values was very time consuming, but avoided the former practice of "filing now and figuring it out later".

Back in private practice, Attorney Hooper uses her extensive experience and knowledge of the court system to provide competent, and personal legal services to her clients.

ADMITTED TO PRACTICE :
- Supreme Court of Missouri, 1997,
- Western District of Missouri, 1997,
- Eastern District of Missouri, 1997,
- U.S. District Court, Middle District of Florida, 1994,
- District of Columbia Court of Appeals, 1993,
- Supreme Court of Florida, 1991,
- Supreme Court of the United States of America, 1989,
- Court of Criminal Appeals for the Armed Forces, 1988,
- Army Court of Criminal Appeals, 1984,
- Supreme Judicial Court of Massachusetts, 1984

Deborah has attended numerous criminal advocacy training courses, to include the Trial Counsel Advocacy Program in Charlottesville, Virginia, The Capital Litigation Conference, Saving Lives, Protecting Futures.

PERSONAL STATEMENT: I enjoy the work of a criminal trial attorney and trying contested cases. As a former prosecutor, I know what to look for and I know where the system is weak. I know what the police can, cannot, and, sometimes, will not do, I know how to defend, because I served as a military and later, civilian defense attorney. I have defended those who defend America since 1984. If I take your case, I can guarantee a zealously defense within the bounds of the law.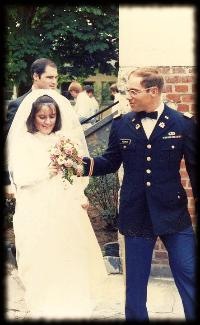 Wedding Day
20 July 1986
Hanau Germany